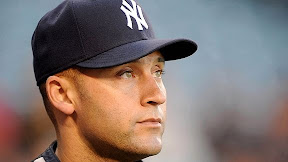 Derek Jeter is an amazing Baseball player. He is not the best there has ever been, but I have certainly never seen anyone rival his passion for winning. He is everything you want to be when you are a kid, and he is ours.
We have followed him since he was drafted 6th overall by the Yankees in 1992. We have been with him for his first hit in Seattle in '95. We were with him in Cleveland on Opening Day in '96. We were there to see him lift his first championship trophy, and his fifth. And all of the ones in between. We were there for the flip play, and for the dive. For a home run that needed a little help
(the Jeffery Maier shot) and a home run that lifted the city briefly out of sadness (November 1, 2001).
We were there for every opposite field hit, and for every jump throw in the hole. We are his fans. Although this achievement belongs to him, the joy it brings is every bit ours as it is his. We were there for the beginning, we'll be there for the end, and we'll be in Cooperstown come induction day. We are his fans.
Derek stands at 2,998 carreer hits, just 2 hits shy of 3,000. He's ready, are you?